May 1, 2019
New PNW Current Chart App an Intensely Visual Game-Changer for Boaters in Straits of Juan de Fuca and Georgia
For the Puget Sound's Juan de Fuca Strait and Strait of Georgia, current prediction charts for cruisers, racers, and kayakers were formerly available only through awkward, slow lookups requiring two separate paper books. Based on data from the Canadian Hydrographic Service, current reference tables had to be repurchased every year in order to use the predictions published by the CHS. Yet until now there hasn't been an app for it.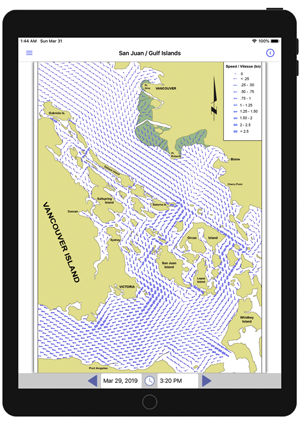 PNW Current Atlas on the Apple iPad
Digital Current Atlas Boasts Free Updates for Life
That's changed with The PNW Current Atlas, a powerfully visual approach to current predictions that works both with and without an internet connection, critically important because cell reception can be unpredictable in that part of the world. More important, it eliminates the need to use a printed reference book together with a printed chart.
"I made this app because I find the Canadian current charts to be a useful and likely underused resource," said creator David Jade, a former Microsoft developer and sailing enthusiast. But it's not just about convenience. "Currents around islands are rarely straightforward or intuitive. Reading them wrong can get you into trouble," Jade explained.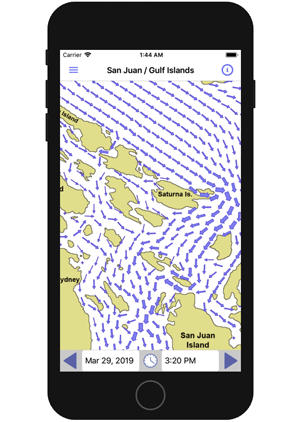 PNW Current Atlas on the Apple iPhone
Never Buy a Reference or Current Look-up Table Again
"A thing we struggled with when we started sailing was getting a handle on how long it takes to get somewhere," continued Jade. "On a slower boat (like just about all sailboats), this can mean the difference between showing up in the afternoon or after dark (if you get it really wrong). The issue is, your speed towards a destination has a lot to do with the currents – get the planning wrong and you could add hours to your ETA as your 6 knots of boat speed drops to 2 or 3 knots."
PNW Current Atlas has a number of ways to view formerly static current prediction charts in ways that can't be approached with printed books:
View any date/time within a tide cycle, past or future (i.e. you can select any date/time and move forward and backwards easily)
Predictions are corrected for Daylight Savings Time
Easily jump to the prediction closest to Now with a single tap
Easily move forwards or backwards through prediction time by tapping or swiping
Zoom into predictions to see more detail
Includes all predictions for the current calendar year with free yearly updates
Buy it once and you immediately have access to charts for the current year, and every year thereafter.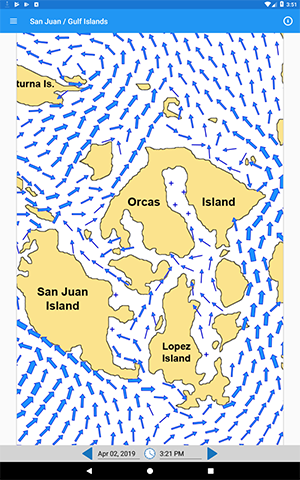 PNW Current Atlas on Android
Puget Sound current atlas covers San Juans, Juan De Fuca Strait and more
The PNW Current Atlas app includes complete coverage of:
The US San Juan Islands
The Canadian Gulf Islands
The Eastern Juan de Fuca Strait, and more.
More regions planned
Later this year the northern part of the Strait of Georgia will be added to the PNW Current Atlas. More areas may follow based on customer input and availability of data.
Tides and Current Prediction Data Licensed from Canadian Gov't
The best source of current chart data for the San Juans, Juan de Fuca Strait, and the Canadian Gulf Islands is the Canadian Hydrographic Service. PNW Current Atlas has licensed the data, although PNW Current Atlas is from an independent company. These predictions are not replacements for the official Canadian Tide and Current Tables, which are the only official tidal predictions for Canada. Always consult official tide and current prediction sources before making navigational decisions.
Current Chart App Available on Apple and Android Devices
The PNW Current Atlas FAQ:
https://tinyoctopus.net/CurrentAtlas/FAQ.html
PNW Current Atlas on the Google Play Store
https://play.google.com/store/apps/details?id=net.tinyoctopus.CurrentAtlas
PNW Current Atlas in the iTunes App Store
https://itunes.apple.com/us/app/pnw-current-atlas/id1456020312
Media
Images of the PNW Current Atlas app
Download All
Press Contacts
David Jade
david@TinyOctopus.net
(206) 552-8059